COD-11® CuAl bushings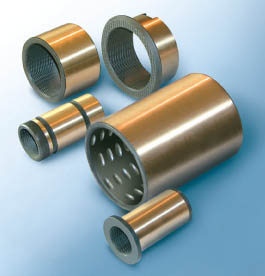 COD 11 corrosion-resistant bushings are manufactured from a copper aluminum alloy. Their superior resistance to seizure and wear results from a proprietary hard surface treatment and grease reservoirs distributed throughout the contact area.
Thanks to an unique surface topography, the intervals of lubrication on COD 11 bushing with cross hatching or COD 11 BH bushings with cavities, are considerably increased.
This COD 11 technology is also available for slide, washer, etc.
Dyn. Load
N/mm2)
Max Speed (m/s)
Max Temp (°C)
Abrasion resistance
Shock resistance
Corrosion resistance
Low-Maintenance
COD 11 ®
60
0.2
+350°C
+
+++
+++
+
COD 11 ® BH
80
0.2
+350°C
+
+++
+++
++
Mating Shaft:
For optimal performances of the joint, the surface roughness should be inferior to 0.8 μm Ra. Under severe working conditions, shafts hardened ≥ 55 HRC or ≥ 600 Hv1 are recommended. For optimal performances, special shafts are available from HEF DURFERRIT: COD® ST, COD STC, COD OX, for marine applications: in sea water environment, we recommend COD EM shafts.
Advantages:
Applications:

Excellent resistance to wear and seizure
Excellent corrosion & salt water resistance
Long greasing intervals
Excellent distribution of the lubricant on the friction area

Marine
Offshore
Steel industry
Hydro power energy
Petrochemical / Oil & Gas industry