PVD Coatings Portfolio
When super-hard, low-friction and high load-bearing thin film coatings are needed, PVD coatings and equipment from HEF USA are the solution. Reliable, environmentally-friendly and versatile, our advanced thin film coating technology represents a major development in surface engineering. PVD thin film coating systems are ideal for a broad range of components used in aerospace; automotive components; mechanical components used in industrial machinery and equipment; tooling applications - for cutting, forming & stamping, plastics and rubber molding, die-casting; medical instruments & devices and diverse decorative applications.
HEF's PVD coatings improve performance, add value, and solve critical challenges associated with friction & wear reduction. Some specific advantages of these coatings for industrial, automotive, and medical applications components are as follows:
High resistance to wear, abrasion and erosion.
Low friction coefficient under high and low temperature conditions, with or without humidity. This translates into lower power losses and higher efficiency.
Higher load carrying capacity with fewer lubricant additions, and less erosion.
Material flexibility – prudent PVD coating solutions allows manufacturers to specify less expensive base materials without compromising product performance.
Biocompatibility for medical and food-contact applications.
Hard chromium & nickel plating replacement for a broad range of performance (non-decorative) applications.
HEF has the unique ability to design and customize the chemistry and metallurgical structure of wear-resistant PVD coatings for specific applications based upon a thorough understanding of the tribology of the component system under consideration - the wear and contact modes involved, operating parameters, base material properties, lubricant interactions etc. This customization ability derives from the fact that HEF has extensive tribological testing capabilities, PVD equipment manufacturing infrastructure, and a dedicated team of R&D and application engineers and decades of experience in providing surface engineering solutions for improving the performance of industrial and automotive components.
The table below shows a summary of HEF's standard coating portfolio along with properties such as hardness, typical coating thickness, deposition temperature, maximum usage temperature and typical applications. Parameters such as deposition temperature are important to ensure that the component being coated is not exposed to conditions that are above its tempering temperature and the base / core hardness is not compromised.
HEF also offers a range of PVD coatings for optical property enhancement, electro-magnetic shielding (PROCEM®) and the enhancement of aesthetics (such as imparting a metallic appearance on polymers and glass).
CERTESS

®

N: Cr-N
1800
700
1 - 5
150 - 350
0.5

Forming tools
Plastic & rubber molds for wear and adhesion
Moderate wear mechanical & auto components

CERTESS

®

X: Cr

x

-N

y

2200
700
1 - 5
150 - 350
0.5
CERTESS

®

Ti: Ti-N
2700
500
2 - 6
250 - 450
0.4

Moderate wear mechanical components
General purpose cutting tools
Decorative

CERTESS

®

G:Zr-N
2700
500
2 - 6
250 - 450
0.4

Same as CERTESS

®

T, with better corrosion resistance

CERTESS

®

T:Ti-Al-N
3000
800
1 - 5
300 - 450
0.3

Mechanical components – abrasive wear resistance at high temperatures
Cutting tools for hard-to-cut materials

CERTESS

®

SD:Ti-B-N
4500
800
1 - 5
300 - 450
0.3
WC-C based CERTESS

®

coatings
1500 - 2000
350
2 - 4
150 - 350
.2 - .25

Friction & wear reduction of automotive and industrial equipment components

DLC based
CERTESS

®

coatings
2800 - 3200
350
2 - 4
150 - 350
.1 - .15

Friction & wear reduction of automotive and industrial equipment components
Hardness Values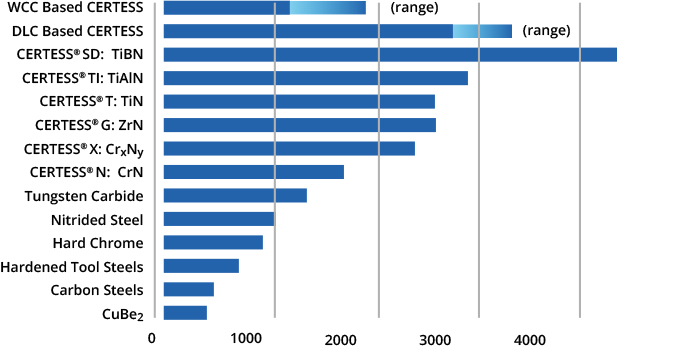 The links below provide more detailed information regarding our PVD coatings portfolio. Please note that HEF offers several other application-specific PVD coatings. For additional details, please contact us.