PEL® BH spherical bearing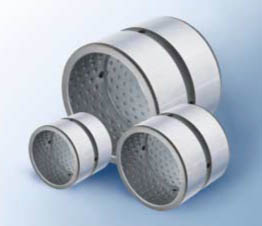 PEL BH bushings are machined bearings with excellent resistance to wear and seizure due to the combination of a duplex surface treatment and special grease cavities / reservoirs.
They are extremely useful in harsh working conditions: high pressure, corrosion, abrasion, shocks. With these bearings the intervals of lubrication are increased significantly leading to reduced maintenance. Due to recent developments, PEL BH2 bushings offer improved wear resistance.
PEL BH technology is also available on spherical plain bearing in case of angular misalignment or flexion in the joint.
Dyn. Load
N/mm2)
Max Speed (m/s)
Max Temp (°C)
Abrasion resistance
Shock resistance
Corrosion resistance
Low-Maintenance
PEL BH
200
1.5
+250°C
++
++
++
+++
PEL BH2
250
1.5
+250°C
+++
++
++
+++
Mating Shaft:
For optimal performances of the joint, the surface roughness should be inferior to Ra 0.8 μm and the hardness should be superior to 56 HRC. For optimal performances, special shafts are available from HEF DURFERRIT: PEL ST, PEL STC.
Advantages:
Applications:

Increasing greasing interval ( >1000 hours )
Very good abrasion resistance
Very high load capacity

Steel industry
Garbage trucks
Earth moving equipment / mining equipment
Attachment / grapples
Cement industry
Construction equipment
Agriculture
Read our PEL BH spherical bearing pdf for conditions of use, Pressure/Velocity Curve and techniques of assembly.