PEL® HP Bushing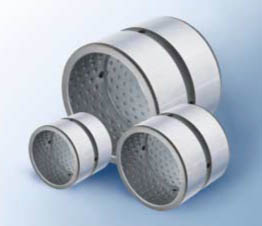 PEL HP bushings have an excellent resistance to wear and seizure thanks to the combination of a duplex surface treatment and optimized surface topography.
They work very well with translation movements and are ideal for severe operating conditions: high pressure, abrasion, shocks and corrosion.
With these bearings lubrication intervals are increased leading to reduced maintenance.
Dyn. Load
N/mm2)
Max Speed (m/s)
Max Temp (°C)
Low-Maintenance
Wear resistance
Low water absorption
PEL HP
100
1.5
+250°C
++
++
++
Mating Shaft:
For optimal performances of the joint, the surface roughness should be inferior to Ra 0.8 μm and the hardness should be superior to 56 HRC. For optimal performances, special shafts are available from HEF DURFERRIT: PEL ST, PEL STC.
Advantages:
Applications:

Interval of lubrication up to 250 hours
(depending on the working conditions)
Excellent resistance to seizure and wear
Excellent distribution of the grease on all the friction surface

Attachment / grapples
Handling
Agriculture