PEL® T maximum speed bushings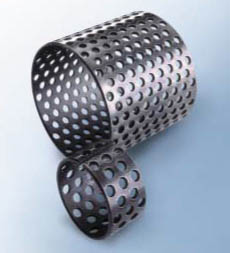 Manufactured from a thin rolled steel strip, the PEL T sleeve bearing has good resistance to wear and seizure and is suitable for high contact pressure and abrasive surroundings, in oscillation or continuous rotation.
The surface cavities on PEL low-cost bushings provide large lubricant reservoirs, while maintaining optimum load distribution. With these bearings the intervals of lubrication is increased.
An impregnated thermochemical treatment contributes high surface hardness, good conformability and excellent resistance to wear and seizure.
They are a good alternative to traditional bronze bushings due to their higher load resistance and higher PV factor.
This bushing is available in standard dimensions and could easily replace wrapped bronze bushing.
Dyn. Load
N/mm2)
Max Speed (m/s)
Max Temp (°C)
Abrasion resistance
Shock resistance
Corrosion resistance
Low-Maintenance
PEL T
100
8
+250°C
++
++
+
++
Mating Shaft:
For optimal performances of the joint, the surface roughness should be inferior to Ra 0.8 μm and the hardness should be superior to 56 HRC. For optimal performances, special shafts are available from HEF DURFERRIT: PEL ST, PEL STC.
Advantages:
Applications:

Higher wear performance than:

Rolled perforated bronze
Loaded composite
Sintered bronze polymer resin
Bronze + graphite inserts
High speed plain bearings

Glass industry
Earth moving equipment
Agriculture
Material Handling & Conveyors
Telehandlers
Railways