H-Liner® Polymer Bushings
HEF Polymer bushings are the result of intensive research and development in the field of self-lubricated and zero-maintenance bearings. These polymer bushings are of woven structure, and made of PTFE and epoxy resin providing tensile strength that is vastly superior to injection molded polymer bushings – and vastly more resistant to high loads, seizure and galling.
They are well-suited to rotation and oscillation applications, and high-speeds. High-load polymer bushings from HEF are chemically inert, and have low water absorption. Their maximum working temperature range is up to 320°F (160°C).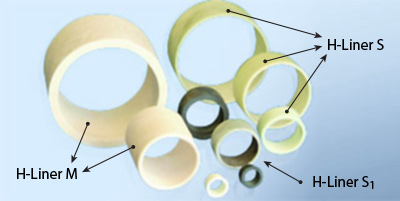 H-Liner M are manufactured with an homogeneous woven polymer material, on the complete wall thickness. This product is completely re-machinable and also available as flanged bushings, washers and slides. They are also widely used for when low water absorption or mis-alignement resistance is required.
H-Liner S is manufactured from a high strength composite fiberglass backing with an woven liner.
H-Liner S1 is made from high strength composite fiberglass backing with an improved wear resistance liner.
Dyn. Load
N/mm2)
Max Speed (m/s)
Max Temp (°C)
Low-Maintenance
Wear resistance
Low water absorption
H-Liner M
80
0.5
+130°C
+++
++
+++
H-Liner S
100
0.5
+160°C
+++
++
+
H-Liner S

1

140
0.5
+160°C
+++
+++
+
For optimal performance we recommend using a grinded pin with a roughness lower than Ra 0.4 μm and hardness higher than 400 HB. HEF DURFERRIT PEL® OX pins are particularly appropriate against H-Liner Bushings.
Advantages:
Applications:

Maintenance free
Weight reduction
Noise reduction
Corrosion resistance
Good chemical resistance
Insulating material
Misalignment accommodation

Off-shore / oil & gas
Harbor
Hydropower Energy
Conveyor rollers
Handling equipment
Railways
Recycling industries