TESCO Sleeve Bearing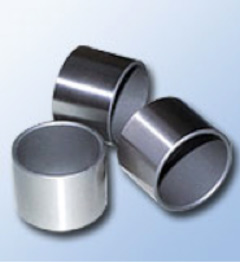 A TESCO sleeve bearing is manufactured from alloy steel with a core hardness higher than 50 RC, and a thermochemical surface treatment that imparts a case hardness higher than 800 HV. The surface treatment contributes excellent frictional properties and scuffing resistance, along with high surface hardness, even at sustained run temperatures up to 500°C.
The TESCO high-temperature sleeve bearing is ideal for both oscillation and rotation, and for applications that involve high loads. In addition to high-temperature bushings, Tesco treatments from HEF are available for pins, rollers, slides, screws and other complex parts.
Note: lubrication of a TESCO high temperature sleeve bearing greatly enhances technical performance. For information regarding high-temperature greases, contact HEF.
Dyn. Load
N/mm2)
Max Speed (m/s)
Max Temp (°C)
Abrasion resistance
Shock resistance
Corrosion resistance
Low-Maintenance
TESCO®
100
0.5
+500°C
+++
+
++
++
Mating Shaft:
For optimal performances of the joint, the surface roughness should be inferior to 0.8 μm Ra. Shafts hardened for 56 to 60 HRC are recommended. HEF propose TESCO HT pins.
Advantages:
Applications:

Excellent resistance to wear and seizure
Excellent resistance to temperature

Steel industry
Cement industry
Glass industry